:
zjjtravelservice@163.com
Departure Date: On your request
Place of Departure: Your hotel
Scenic spots: Tianmen mountain/Tianzi mountian/Yuanjiajie mountian/Baofeng Lake/Zhangjiajie Glass Bridge/Furong town/Fenghuang town

Students over 14 years old please bring student ID to buy student ticket.

Your personal tour guide on time ready to meet you in the arrive area of airport.A comfortable private car and experienced driver will be ready and waiting to take you to the hotel.
Hotel: suggest Huatian hotel(we book 500 CNY/room/night) as close to Zhangjiajie airport and Tianmen mountain.
In the morning check out,visit Tianmen Mountain.
Tianmen Mountain: first recorded in the history of Zhangjiajie, has an elevation of 1518.6 meters,only 8 kilometers far from the downtown and is one of the most representative natural sceneries of Zhangjiajie,5A level national tourist spots/world geopark/national forest park of China.You can enjoy 7.5 km cable car(the longest passenger cableway of high mountains in the world)/glass walking way/Guigu plank road/bonsai view on the mountain/sky gate hole/99 turns Heaven-linking Avenue,etc

After sightseeing,transfer to hotel in Wulingyuan district.
Optional: in the evening you can rest in the hotel or enjoy the Fox Fairy show, this show is highly recommended by tourists who have enjoyed it,as a must see program in Zhangjiajie, it is an outdoor canyon dance musical with Tianmen mountain and water as backgrand,the beautiful local legend love story between woodman and fox fairy,great music directed by Tan Dun who said to be top 10 musicians in the world(he did music for famous movie"Crouching Tiger,Hidden Dragon",earned a Grammy Award and Academy Award),beautiful stage and lights,over 500 performers,also with local Tujia minority culture as songs/dance/custom.If you want to enjoy the Fox Fairy show please tell us ahead of time to arrange tickets and transportation.
Hotel: suggest Pullman Zhangjiajie(we book 560 CNY/room/night) as close to Wulingyuan sights.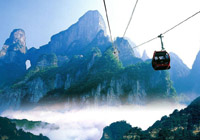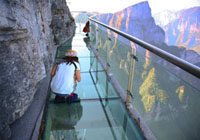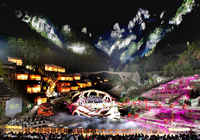 Day 3 Zhangjiajie Park(Tianzi mountain and Yuanjiajie mountain),Zhangjiajie Glass Bridge
Tianzi mountain cable car up to visit Tianzi mountain in the morning,
visit Yuanjiajie mountain and take Bailong elevator down the mountain.
In the afternoon visit Zhangjiajie Glass Bridge and back to hotel.
Tianzi mountain: the kingdom of sandstone peak forest(Zhangjiajie formation) with thousands of peaks,you can enjoy spots like imperial pen brush/fairy presenting flowers/west ocean peak forest/Helong park,etc.
Yuanjiajie mountain: big mesa surrounded by mountains in Avatar movie,many beautiful platforms on the way walking around.You can enjoy spots like No 1 natural bridge/5 sisters peak/Avatar peak/enchanting platform,etc
Zhangjiajie Glass Bridge: 430 meters glass bridge,99 pieces of glass,10 world records,many tourists want to try walking on the glass bridge which is 300 meters above the ground.
Optional: in the evening rest in the hotel or enjoy the Charming Xiangxi Show, this show is a must see show when you come to Zhangjiajie, it is about the colorful local culture. The show is varied and deeply explore the mystery and unique minority life. It has upgraded the music of ethnic groups and perfectly combined the traditional ethnic arts and skills with the sound, light and electricity technologies for the modern stage.If you want to enjoy the show please tell us ahead of time to arrange tickets and transportation.
Hotel: Pullman Zhangjiajie
(we book 560 CNY/room/night) as close to Wulingyuan sights.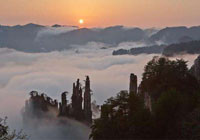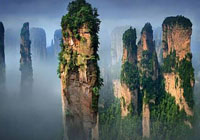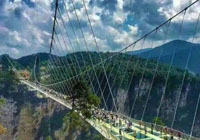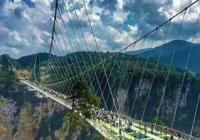 Day 4 Baofeng Lake,Furong town,Fenghuang night view
Check out from Pullman Zhangjiajie,visit Baofeng Lake and visit Furong town on the way to Fenghuang,arrive Fenghuang in the evening and enjoy evening view of Fenghuang after check in hotel in Fenghuang.
Baofeng Lake: located among Zhangjiajie sandstone peaks,famous for clear water and beautiful mountain view.2.5 km length and 200m to 1000m width,average depth 72m,with a 75m high waterful.Boating on the lake to enjoy clear water,nice mountain view and local girl and man's local love songs,get off the boat to see the waterful and giant salamander.
Furong town: located on the way to Fenghuang,old name called king's village(local Tujia minority king spend summer holiday here),after the famous movie Furong town shoot here,this town's name changed into Furong town.It's a beautiful and old town with rock street,summer palace of local Tujia king with Tujia traditional wooden buildings,a big waterful which you can walk under,big and old dock present you a quite and beautiful Tujia ancient town.
Fenghuang Town: national historical and cultural famous city Fenghuang, recommend to be the most beautiful ancient town in china by famous New Zealand writer Louis Eli,beautiful night view/green mountains and clear river/many famous people were born in Fenghuang together with the local Miao minority's old street and buildings.World famous writer from China Shencongwen was born and grew up in Fenghuang,who have a book "Border town" make Fenghuang world famous,many people come to Fenghuang to find out this nice town where the love story in the book happened and enjoy the great nature and culture.Famous spots and old buildings:Shen congwen former residence, Rainbow bridge,Tuo river boating,Xiong xiling former residence, Yang family's ancestral hall, Eastern tower,etc.
Hotel: suggest Grand Phoenix hotel(we book at 500 CNY/room/night)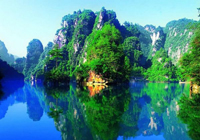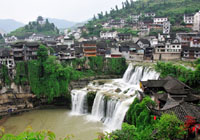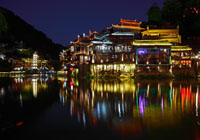 Day 5 Fenghuang day view,Zhangjiajie airport
Check out in the morning,enjoy Fenghuang day view,drive back to Zhangjiajie and drop off to Zhangjiajie airport.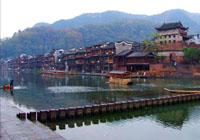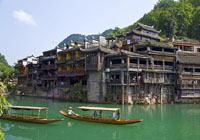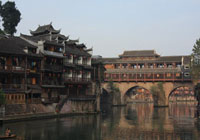 : zjjtravelservice@163.com

Services we do provide(itinerary follow your requirements, do private tour suit you best):
A: Tickets booking: CNY per pax
Tianmen mountain 266+Zhangjiajie park 248+Tianzi mountain cable car 72+Yuanjiajie elevator 72+Zhangjiajie glass bridge 141+Baofeng lake 121+Furong town 120+Fenghuang 148=1188
Fox Fairy show CNY per ticket: 208CNY for A ticket,380CNY for B ticket,580CNY for C ticket;
Charming Xiangxi show CNY per ticket: 228CNY for A ticket,268CNY for B ticket,308CNY for C ticket.
B: English speaking guide
Guide for you licensed as English speaking guide.
C: Private transportation
Different sizes of groups require different sizes of vehicles,we hire clean/comfortable/non-smoking vehicles for your group.For price please check with us in advance.
D: Hotel booking
Please tell us the rating of hotel you prefer,we can make the best choice for you according to your budget,choose convenient location and quality hotels which suits for the above itinerary,and the price we get from local agent sure cheaper than your own booking(you can check the price).
Exclude in our private tour:
A: Tips for guide and driver 's good job.
B:Transportion which go beyond the above itinerary.
C:Your personal expenses.
D:Food.You can choose food as you like,guide can recommend good restaurants for you,driver will drop off to restaurant and pick back to hotel after the meal.
Warm notice:
A: Some sights we can book discount tickets for student(over 15 years old and under 24 need student ID), old seniors and disabled adults,please bring related ID.
B: Please put on suitable clothes/shoes according to weather forecast,suggest outdoor sports clothes and shoes,take umbrella or raincoat in the possible rainy days.
C: Zhangjiajie most sights need to do stairs,please watch your step when hiking,take care of your mobile when taking photos.
D: We are out of responsibility if any changes caused by the acts of God,war,riots,quarantine,fires,natural disasters,weather,governmental and local authority orders,political change,strikes,custom regulations,damages or injury caused by accident beyond the control of www.zhangjiajietravelservice.com,and that has incurred due to the tourist action violating the laws.
Any questions please feel free to contact us:
Email:zjjtravelservice@163.com
Phone:+867448261966
WhatsApp:+8615074418622
WeChat:+8615074418622